It's been a while since I've done a Sample Board Teaching post. After reading a fellow sewing blogger, I was inspired to pick on this particular sample.
What stitch is used to sew elastic directly onto a material? Why?
While I can use a straight stitch (because I'm sewing over already stretched elastic, the straight stitch won't break during use), I don't recommend it because there is no width to a straight stitch. I'd have to sew multiple rows in order to adequately tack down the elastic so it doesn't roll or pull out. For those who know me or have this blog, you know that I consider myself a Lazy Sewist — I want the best result for the least effort. Sewing multiple lines of stitches when other options are available and look better too boot? Definitely too much work! heh.
I could use a zig zag-stitch. That has width. That aughta work, right? Yes, it gets the job done, but look below.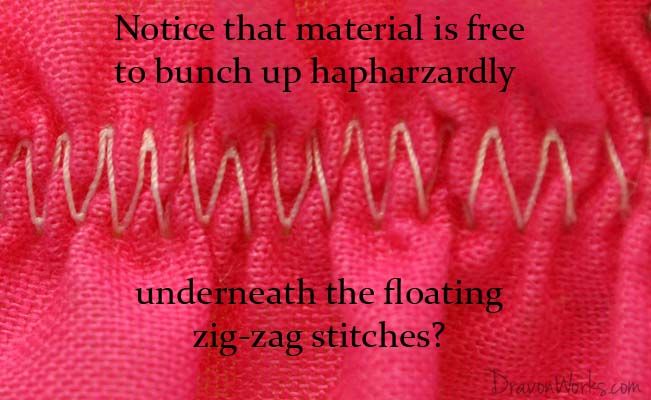 It's not a particularly pretty end result. Why? Because a zig-zag stitch only penetrates the fabric at the opposite sides of the stitch width. See in the illustration below, I've circled where the needle goes through the material. This means that the thread between these points of penetration is literally just floating around over the fabric.
In this instance, when the stretched elastic is relaxed then those floating stitches also relax, providing zero guidance for the fabric. The end result is a rather ugly bunched up line of material that is attached to the elastic. I've done far too many otherwise gorgeous projects which end up being "meh" because the details like this go awry. So now I've put in lots of hours and I'm not happy with the result. Is anything better than this? You betcha!
The 3-step zig-zag. This has become one of the my favorite stitches! Unlike the true zig-zag, this stitch gives tons of support to the fabrics being joined and it has the benefit of usually not pulling as badly. If you've ever sewn a zig-zag and get the fabric tunneling up underneath the stitch, this is what I mean by "pulling badly". The 3-step is so useful because it's actually composed of 3 small diagonal stitches, enabling it to have the width of a zig-zig but still provide stability of a straight stitch.
Because there are no large sections of unsewn material, there is none of that sloppiness illustrate above to be found in this stitch. This means that when the elastic is relaxed and the fabric is allowed to bunch up, the end result is a controlled distribution of that resulting gather. Notice the difference in the look of this gathered elasticized waistband. Wow! It's gorgeous — smooth, controlled, evenly distributed. Even the folds in the fabric look relaxed and flowing, rather than scrunched and tortured.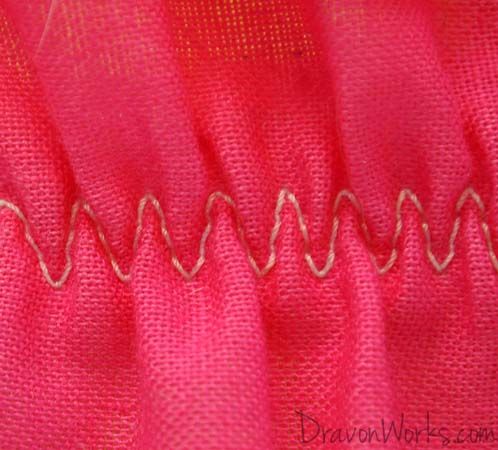 For attaching elastic directly to your material, nothing beats this stitch! It's easy, fast and looks great. The Trifecta! *woot*
It's one of the fundamental stitches that you'll find on even the most basic of machines which can do a zig-zag. If your machine has a visual selection of stitches, the 3-step zig-zag looks like the true zig-zag except it has 3 tiny stitches visible. Like this:


Give it a test! On some machines this stitch width can also be adjusted for using on those narrow 1/4″ elastics. Try this for yourself. See which end result you like or suits your project's needs best. Experiment!
Until next time, Happy Sewing!
– Dravon
— This is just one of the tips/tricks that I share during my Basic Mechanical Machine Mastery class. Imagine 3 hours of hands-on sewing empowerment! Want me to teach at your location? Contact me.